The Hampton Village Community Association (HVCA) is a volunteer, non-profit organization established to serve the recreational and cultural needs of this thriving west-end neighbourhood. The HVCA's goal is to promote a sense of community and enrich the quality of life in the area.
The community of Hampton Village is bounded on the north side by the Saskatoon Airport and 37th Street on the south. Hampton village was established in 2005 and as of 2021 has grown to approximately 8,848 people! Soon after the community was established, a small group of dedicated volunteers formed the Hampton Village Community Association (HVCA) to help make the community grow to what it is today—a flourishing community, with a small town feel. A community for all seasons and all ages!
The HVCA continues to have a core group of hard working volunteers living in our area, who meet once a month to plan affordable sports, culture, and recreation programming for our community. Hampton Village's new P3 School and the local church provide facilities for HVCA programs, community events and leisure activities for all ages.
The beautiful, green space in Hampton Village boasts several ball diamonds, space for youth soccer, playground facilities, a spray park and walking trails that are well used and accessible throughout the year. In addition, the HVCA owns and operates the outdoor community skating rink which is also located in the extensive Hampton Village park system.
As well as planning community events and programming, HVCA volunteers produce the community newsletter to keep residents informed of the happenings in our neighbourhood. Volunteers make things happen in Hampton Village. New members are always welcome and appreciated!
---
Governance
Articles of Incorporation and Bylaws – Updated October 12, 2022.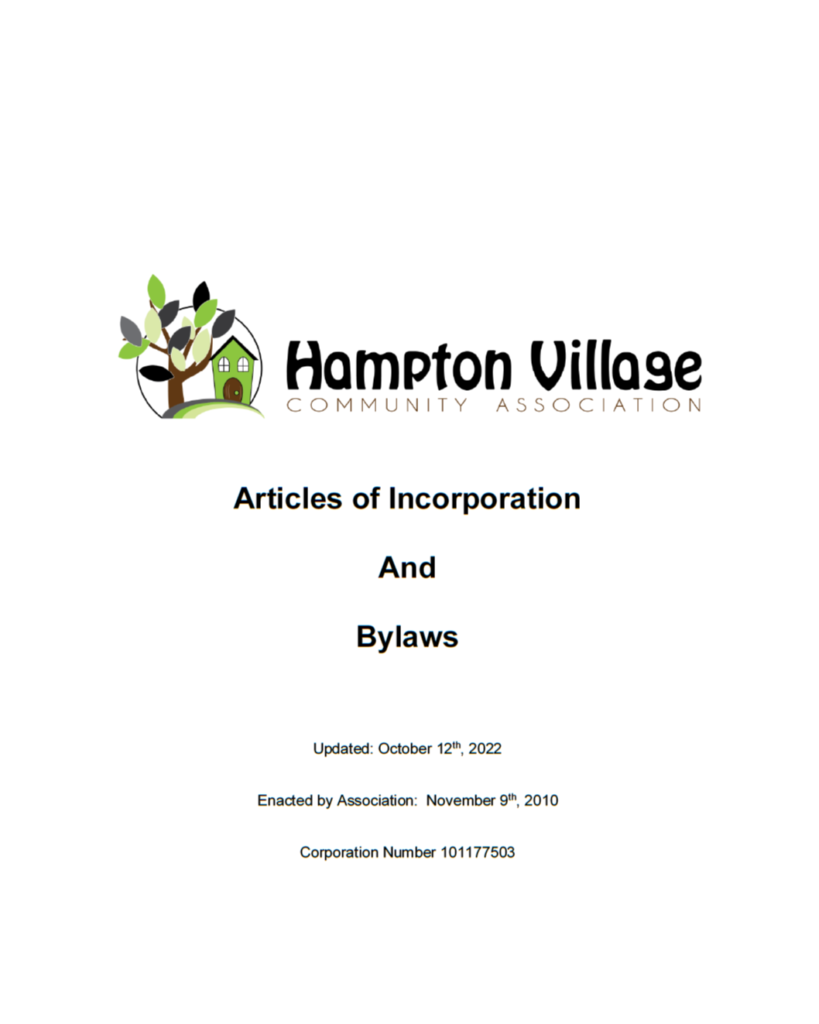 ---