Our next Community Garage Sale & BBQ will be on Saturday, June 4th, 2022.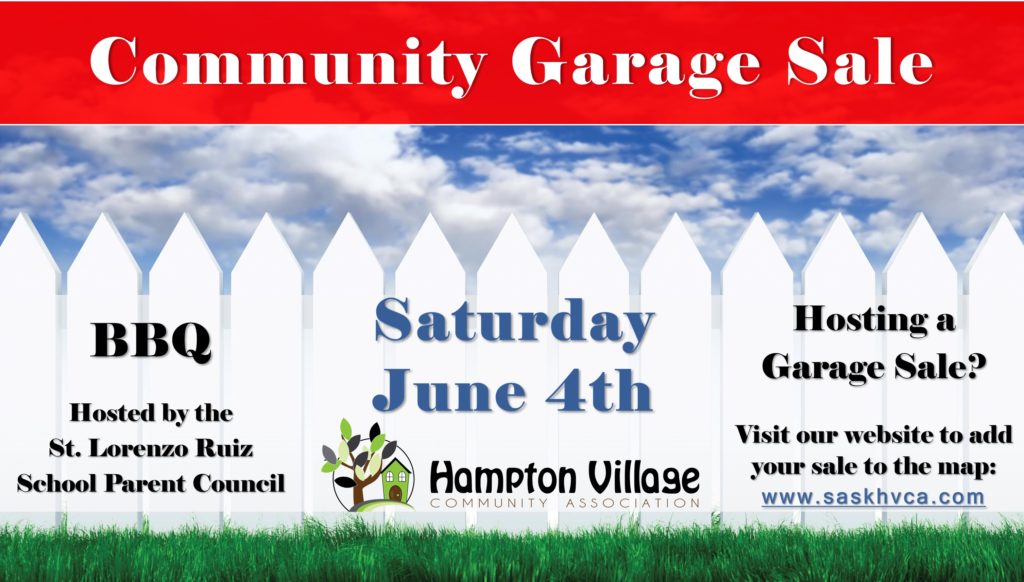 BBQ
This year the BBQ will be hosted by the St. Lorenzo Ruiz School Parent Council. Stop by for burgers, hot dogs, cold drinks, chips, candy and cookies!
When:
11:00 am – 3:00 pm
Saturday, June 4th, 2022
Where:
In front of St. Lorenzo School
1023 Hampton Circle
---
Hosting a Garage Sale?
To add your sale to the map, please email contact@saskhvca.com with the following information about your garage sale:
📍 Address
📆 Date(s)
🕘 Start and End Times
The map will be posted on the HVCA Facebook page and website, and a paid ad on Kijiji. There will also be maps available at the BBQ.
Please note: Submission deadline is Thursday, June 2nd. Entries after this date may not be added to our map.
---
Do you live in a Condo, Townhouse or Basement Suite?
The Hampton Free Methodist Church will have tables set up in their parking lot for people in the community who don't have the space at home to host their own Garage Sale. Tables are meant for smaller items (no furniture), and must be pre-booked as space is limited. To book your table, email Morgan: adultprograms@saskhvca.com
When:
8:00 am – 3:00 pm
Saturday, June 4th, 2022
Where:
Hampton Free Methodist Church parking lot
2930 McClocklin Road
Saskatoon Dog Rescue will also have an adoption event set up in the Hampton Free Methodist Church parking lot. They have many pups that are either available for adoption or nearing being posted for adoption. Stop by to check them out!
---
Why is the sale in June this year?
For over a decade, the Hampton Village Community Association has had a tradition of hosting a Community-Wide Garage Sale & BBQ on the weekend before May long weekend. Due to COVID-19, we were unable to host this event in 2020 & 2021. Over the past two years, the HVCA has put a lot of thought into when this event is held and it has been decided that it will run later in the season. This will allow for a little more time to plan the Community Clean-up in May and perhaps there will be warmer weather for the Community Garage Sale & BBQ!
---
If you would like more information about the garage sale or would like to volunteer at the BBQ please send us an email: contact@saskhvca.com
---
---